NOTE: This album is available in WAV or FLAC format and in three difference mixing perspectives: stereo, 5.1 "stage" or 5.1 "audience". The default is WAV and stereo. Please use the pull down menus to select from among the available options.
Description
If you're a guitarist, you know the name Laurence Juber. In his former life, Laurence was invited by Sir Paul McCartney to become a member of Wings. In fact, he has had the honor of performing with all of the Beatles except John Lennon. Over the past decade or so, he has been become one of the top finger-style acoustic players in the world. His compositional and arranging skills are as strong as his virtuosity. Joined here with Domenic Genova and Steve Forman, LJ expands pieces in a bluesier/jazzier direction — a perfect balance especially for a high-resolution, 5.1 channel surround project.
And the sound of this recording has established Guitar Noir as a true reference disc! This is the project that has won multiple Surround Music Award nominations, topped the DVD Etc list of The 20 Best Sounding Multi-Channel Releases AND won the 2005 DEMMY award from the Consumer Electronics Association for Best High-Resolution, Multi-Channel Track.
But it's the sound that transcends believability! The richness of LJ's signature series Martin guitar extends deeper through the acoustic bass and is contrasted with lots of ultra-frequency metallic percussion tastefully played…and captured using 96 kHz/24-bits. The sound on this disc is as perfect as I know how to make. I hope you agree. In fact, this is our best selling title and has become a reference standard for all guitarists and audiophiles.
---
The DVD-Audio/Video Disc
If you want to get all of the features associated with this project, the DVD-Audio/Video disc is loaded with bonus materials. There are two sides to this disc. The first side in an interactive DVD-Video disc and the other side is a DVD-Audio disc [which requires a DVD-Audio capable machine to play it back]. Here's a short list of bonus stuff:
• Guitar less shot in multiple camera angles
• TAB notation for the lesson tune
• Extensive artist Interview accompanied with photos
• Rehearsal footage
• Web connection software
• Complete Discography
• Photo Gallery
• Complete Tech Specs, Definitions, Test Tones
To Visit the AIX Records website to purchase the DVD-Audio/Video disc of this album. CLICK HERE.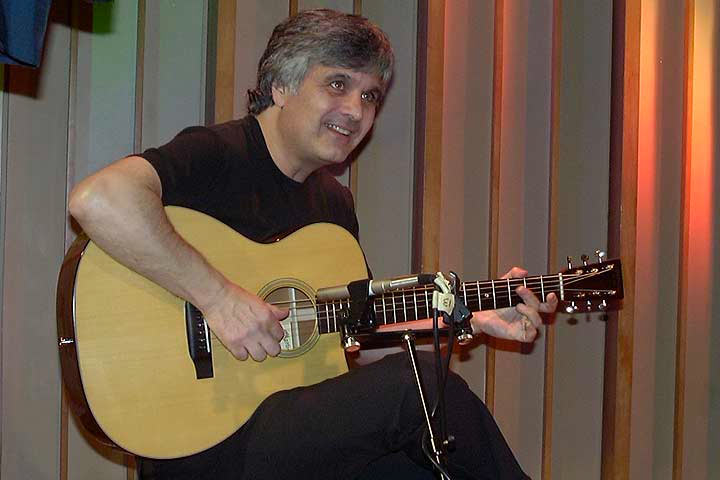 Audio Samples:
Guitar Noir –

Mosaic –

Leaning Post –

My My My –

Rules Of The Road –

Blues DeLuxe –

Dancing On Streams –

In Your Arms –

Stolen Glances –

Liquid Amber –

Night_Hawk –

Benny's Bounce –

Strawberry Fields Forever –

Cannery Row –